December 2022

Upcoming Exhibition: The Way Through the Woods
Inspired by Rudyard Kipling's poem, this exhibition invites us to lose ourselves in the woods. In these 'misty solitudes' we come into contact with the secret, miraculous nature that flourishes there, living, fighting, and growing without interference from humans: fungi, beetles, frogs, ants and lichen. Look closely, and a miniature world quietly unfolds before us.

The exhibition will be held together with my brother, Matthew Impey, an English artist and maker living in Normandy (www.matthewimpey.com; Instagram @galeriematthewimpey). His early career after his degree in Fine Art in London, was as a painter, with exhibitions in England, France and the United States, but after moving to France he moved into design and founded his furniture brand in 2006. He has a shop/gallery in a 15th century house in the picturesque town of Orbec, Pays d'Auge, and all his work is carried out in his atelier under his direction. He works mainly to order for both private and commercial clients, and projects range from a simple piece of furniture to the fitting out of an entire apartment or commercial space, His work appears regularly in such publications as Idéat, House and Garden, and World of Interiors.

In this exhibition Matthew showcases his passion for wood. With a painter's eye for shape and form, he allows the individual characters of different types of wood to shine through while pushing conceptions of how wood can be used. He demonstrates how small, practical pieces of furniture that fit any interior can also be things of beauty in themselves, and do justice to the trees from which they come.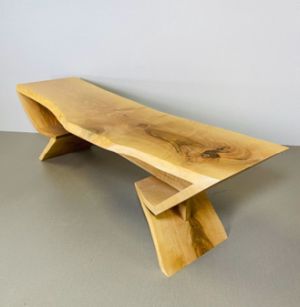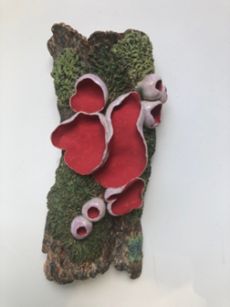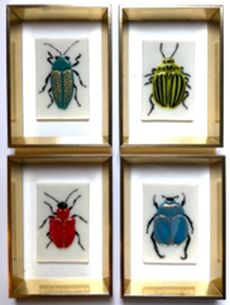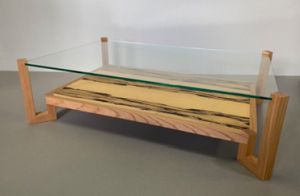 They shut the road through the woods
Seventy years ago.
Weather and rain have undone it again,
And now you would never know
There was once a road through the woods
Before they planted the trees.
It is underneath the coppice and heath,
And the thin anemones.
Only the keeper sees
That, where the ring-dove broods,
And the badgers roll at ease,
There was once a road through the woods.

Yet, if you enter the woods
Of a summer evening late,
When the night-air cools on the trout-ringed pools
Where the otter whistles his mate,
(They fear not men in the woods,
Because they see so few.)
You will hear the beat of a horse's feet,
And the swish of a skirt in the dew,
Steadily cantering through
The misty solitudes,
As though they perfectly knew
The old lost road through the woods.
But there is no road through the woods.
---
September 2021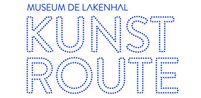 I have been chosen to take part in 2021's Kunstroute. This year I will be in a lovely new space at Lange Mare 37, 2312 GP, Leiden with my new exhibition:
Miniature Nature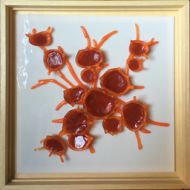 "Mysterious and little-known creatures live within reach of where you sit. Splendour awaits in minute proportions" - so wrote the famous entomologist E.O. Wilson. This exhibition is a celebration of the beauty of the miniature nature that surrounds us, even in cities, and which so often passes us by unheeded.

OPEN: Saturday 25 and Sunday 26 September 12-6pm
Celebratory drinks Saturday 25 5pm onwards
---
May 2021

Sijthoff Cultuur
Doezastraat 1b
2311 GZ Leiden
www.sijthoff-leiden.nl

Preview 29 May 14.00-16.00

Opening 5 May 15.30 with interview by journalist Maarten Baanders

All around us there are messengers, and yet, as we go about our lives, most of us pass them by unheeding. We urgently need to pay more attention to the natural world, especially the complex and underestimated realms of fungi, lichen and insects, and to tune into the ways in which they communicate. There is so much they can teach us: about other ways of being, about our inextricable links with their realms, about the meaning of reciprocity and exploitation, about beauty in miniature, about transience and longevity. I want this exhibition to make you look closer, to think differently about your surroundings, and to listen to what those messengers are telling us.

Slideshow of the exhibition will be available here.

---
September 2020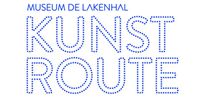 I have been chosen to take part in 2020's distanced Kunstroute. This year I will be exhibiting in Nieuwe Energie, 3e Binnenvestgracht 23, 2312 NR Leiden, along with several other artists. Although COVID prevents me from being able to hold a proper opening party, I am lucky enough to have a space to myself, so please do come and see my work at any time between 12 and 6 on Saturday 26 and Sunday 27 September and raise a glass of bubbles to celebrate!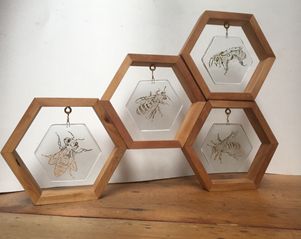 www.nieuweenergieleiden.nl
---
Juni 2020

Message (for silence)

This month we were supposed to be drinking bubbles together to celebrate the opening of my latest exhibition, The Spaces Between Us, in the Sijthoff cultural centre in Leiden. Alas, due to that pesky virus, this is not possible, but there is now a virtual version of the exhibition on the Sijthoff website. I hope that you will be able to enjoy it, perhaps with a glass on bubbles in hand...
www.sijthoff-leiden.nl/the-spaces-between-us
The website is in Dutch, but here is an English version of the slideshow: Slidefhow `The Spaces Between Us`
---
April 2020

Gyotaku print, acylic and watercolour

I am loving experimenting with gyotaku, a Japanese print technique involving inking the actual fish and then adding details later with watercolour. Thanks are due to the bream for his involvement in the process!

€150

Glazed ceramic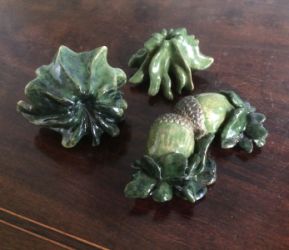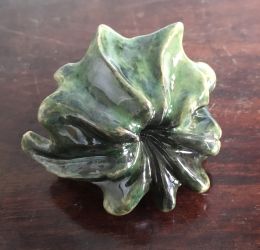 These pieces explore the alien forms created by the frankly supernatural powers of the oak gall wasp. The wasp grubs produce hormones that trick the tree into producing elaborate homes for them...
€150 each
Watercolour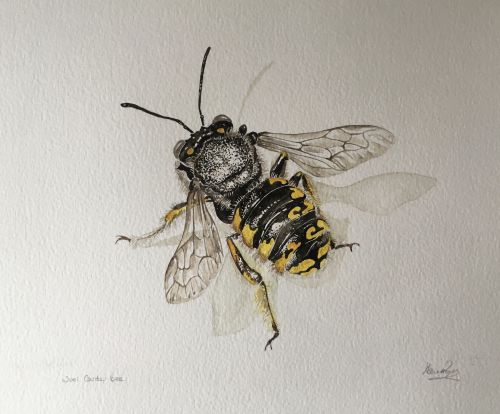 Wool carder bees are one of the 250 bee species native to the UK and the Netherlands and I find them particularly adorable. The females make snuggly nests lined with soft plant fibres, and they carry pollen on their tummies like little aprons. What's not to love?
€250
Fused glass

I'm trying to capture the beauty and texture of sea creatures in glass. I've built it up with different layers and fired it - I love the feeling of the smooth glittering curves of the jellyfish.
€350
Pencil on paper
Monitor lizards are the most extraordinarily beautiful and intelligent animals. They have a special place in my heart because my father kept one, called Houdini, as a pet. He was very tame but tended to escape at awkward moments, such as in the post office...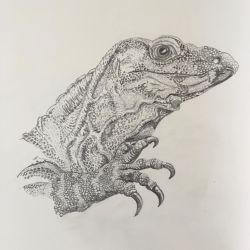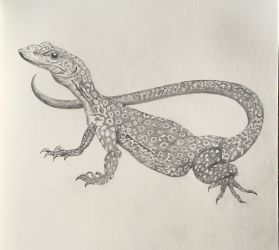 Not for sale, but similar commissions possible
Glazed ceramic
Watercolour and pencil studies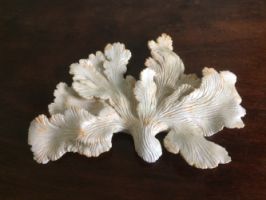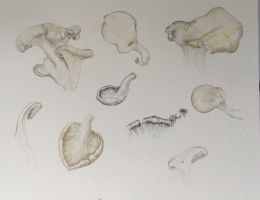 I've always adored fungi, and right now I'm all excited about the intricate patterns created by their gills. Working with mushrooms has one great advantage: unlike a portrait painter, you can eat your subjects afterwards.
Ceramic €300
Acrylic on gold leaf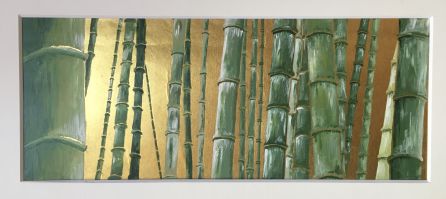 Thin spaces' are places where something greater, spiritual, holy, feels somehow closer. The bamboo forest surrounding Takeo shrine in Japan is one such place. All you can hear is the wind in the leaves and the gentle tapping of the canes against each other as they reach up to the sky.
€250
Block print on Japanese paper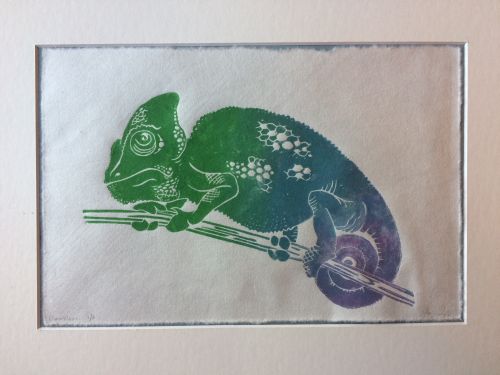 Isn't it a glorious concept: to be able to communicate by changing the patterns on your skin? Although it could be a trifle inconvenient to turn green with blue spots, as the panther chameleon does, when you spot someone you find attractive...
€80
Silk and metallic thread on linen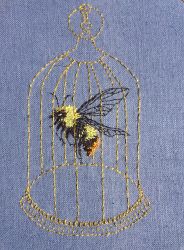 Early bumblebee
He flew to me in March,
An early bumblebee in time and name;
Hummed his secret song of wingbeat and pollen,
Hovered for a moment, and was gone.
In silken thread I hold him still,
With bars of gold to honour and contain him,
He could slip through, and yet, and yet.
He stays inside, as we do.
€150
Acrylic with gel medium on canvas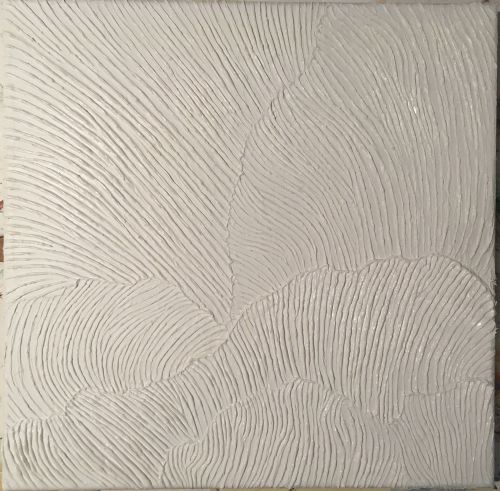 This is a painting I've had in my head for weeks - and one which I mistakenly thought I could pull out of the bag for the last day. It was 10.15pm before it was finished!
€200
If you are interested in purchasing one of these, or any other piece on my website, please contact me on harriet@thetulipandthebutterfly.com
---
September 2019

Dende restaurant,
Nieuwe Rijn 5,
Leiden

This exhibition, a celebration of the beauty of the natural world, comprises a wide range of media, from fused glass and ceramics to watercolour and acrylics.

As her work has been chosen to be part of Kunstroute, (see kunstrouteleiden) Harriet will be in Dende from 12-6 on 21 and 22 September.

---
La Vie des Abeilles includes, as the name suggests, a joyous celebration of bees, in multiple media. I have long loved bees for their jewel-like qualities, and the use of blown gold in my prints is intended to evoke this feeling.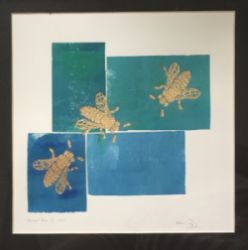 Twilight bees (block print)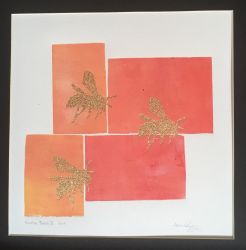 Sunrise bees (block print)
The exhibition also comprises many other works, including a series of relief works in ceramic and fused glass.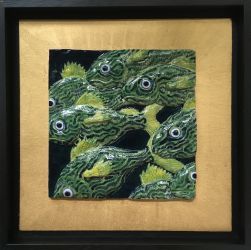 Shoal (ceramic)
Galerie Ebenisterie, Orbec, 14290 Calvados, France

Vernissage Saturday 6 July, 5pm onwards (invitation only - but please contact Harriet if you would like to attend).


Harriet has been chosen to take part in Kunstroute again this year! She will be exhibiting at Restaurant Dende, Nieuwe Rijn 5, 2312 JB Leiden, with the exhibition Reliëf.

Reliëf explores the possibilities of working in relief, using ceramic, glass, acrylic and collage. Harriet's passion for nature and eye for detail are showcased in this playful and celebratory exhibition.

Private view: Sunday 15 September, 3-5pm (invitation only - but please contact Harriet if you would like to attend)

Kunstroute: 21-22 September, 12-5pm.
---

This exhibition continues on from the Oxford Artweeks exhibition but with new works, and explores the intimate and the abstract in the natural world. Media used include acrylic, collage, watercolour, ceramics, block printing and silk-screen printing. It is a joyous celebration of the beauty of nature.
---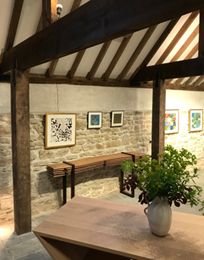 The exhibition for Oxford Artweeks was a great success, and the Private View on 5 May was enormous fun. It was very busy, and Harriet sold three-quarters of her 25 pieces on display - there was even 'an unseemly scuffle' as a friend put it when one painting got sold to a client that another had 'red-dotted'. Very gratifying. She is now working on the three commissions she received.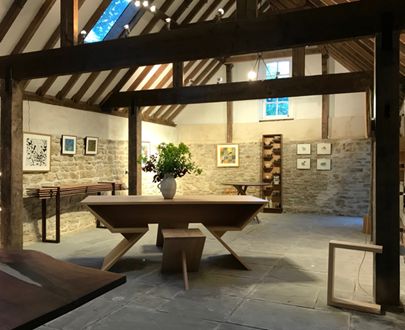 Harriet's next exhibition will be in early September at Dende, a great restaurant venue in the heart of Leiden at which he has had a previous very successful exhibition. She is currently in the process of applying to Kunstroute, so watch this space!


---
This year, Harriet will be taking part in Oxford Artweeks, with an exhibition opening on 5 May: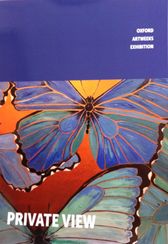 See:
Her work will be on show in a beautiful venue in a Victorian barn by the Ock River, alongside furniture by the cabinetmaker Matthew Impey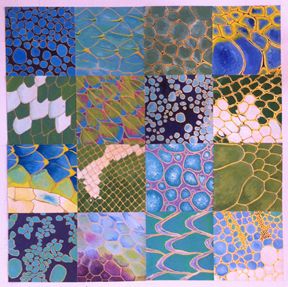 At last, an update! The PRECIOUS exhibition at Galerie Isabelle Riffon was a great success: not only was it great fun, but I sold almost everything and received several commissions. One of my recent commissions:
I've been working this year on a range of subjects in different media. My current work focuses on the abstraction of patterns in nature, particularly feathers and the world of insects. Some with a lot of gold and rich, deep colours: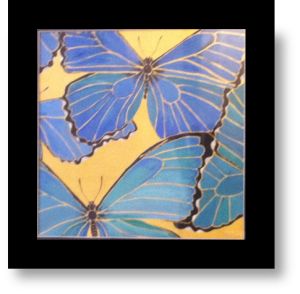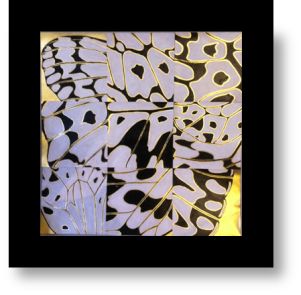 I'm still very interested in printing, especially now I have my new beloved rolling press. A recent work:
I'm currently working on some larger, more abstract black and silver collages inspired by bees and white peacock feathers, and am hoping to have an exhibition soon in a gorgeous Leiden restaurant soon, so watch this space!
---
October 2015
PRECIOUS opens 8 November
Precious , which is held in the gallery of the fabulous silversmith Isabelle Riffon, celebrates the jewel-like properties of the natural world. Works include collages, prints and paintings, with a leaning towards gold leaf and gold dust.
The exhibition is on display from 11 November until 31 January, with a festive opening on 8 November from 14.00- 16.00. Please contact me if you would like an invitation.
Galerie Isabelle Riffon
Pieterskerkchoorsteeg 17
2311 TR Leiden
See for more information:
---
The Temple Guardians is out and selling nicely in the shops!

The book for sale at the Rijksmuseum

We had a hugely enjoyable launch at Silvester in Leiden and another very special one hosted by the Friends of the Pitt Rivers Museum in Oxford. This was combined with a lecture by Menno Fitski about Japanese sculpture and was so well attended we had to have a special fire safety briefing as people were literally sitting on each other's laps!
It's available for sale widely in shops in the Netherlands, or online here website.
We've had some lovely reviews, and were Book of the Week on Hebban (see website).
Some reviews:
'De compositie, de kleuren, de vormgeving, alles klopt en is van grote schoonheid. De tempelwachters van het Rijksmuseum is echt een boek om heel vaak bij weg te dromen, zo´n boek waarvan je de plaatjes nooit meer vergeet.' Kinderboekenpraatjes

'Voor deze intrigerende illustraties in zachte kleuren is veel ruimte in het boek; zij geven het verhaal een sprookjesachtige sfeer' Hebban Junior

'een supermooi boek' Marijn Hageman, Kidsweek

'The publication plays in a nice way with Japanese history, the art of Japanese prints and the two guardian statues of the Rijksmuseum. as a whole The Temple Guardians of the Rijksmuseum is an exciting novel for children.' Inge Klompmakers, Yoyogipark
Menno's small book on the history of the guardians is also out, and is delightful - packed full of information and painstaking research but remarkably easy to read. If you've enjoyed my book and would like to know more I recommend this as an excellent companion volume!
You can buy it here.
We also went as a family to Japan, and travelled to Yokota to visit the temple Iwayagi whence the statues originally came. After a fairly arduous climb up the steep hill path (Menno literally pushed me up the hill!), it was incredibly moving to see the empty gate, crumbling away, with the two niches where the guardians once stood.
It is evidently still a holy place, not only from the feel of it but from the countless tributes of money, figurines and notes that people still leave there. We tried to continue further through the bamboo forest to get the the abandoned temple, but eventually the snow was so deep that we had to stop. It was the most extraordinary experience to be sinking into the snow as we climbed the steep hill through the bamboo forest - it felt as if I were walking through my own book. I was astonished at how close it felt to the atmosphere we had tried to create in the book.
We were greatly honoured to be received by the former priest of the temple, a wonderful grand old man of 93, bent double and dressed exquisitely in his official robes. We presented him with the book and he was extremely moved by it, and by the idea that children on the other side of the world knew all about 'his' temple. I had been somewhat diffident about presenting the book in Japan but it was received with huge enthusiasm, to my delight and relief!
Our friends in the village were also extremely enthusiastic about the book, and have subsequently translated it into Japanese. Rubinstein is now talking to their agents in Japan, so watch this space.
In November this year I will be having an exhibition in conjunction with the goldsmith Isabelle Riffon in Leiden - think tiny jewel-like pictures and you'll have an idea of the sort of things I am working on..
---
September was a wonderful month - I was the guest artist for the month of September in Galerie Zône. The opening was enormous fun, as was the weekend of Kunstroute. It went really well, I'm happy to say, and I sold the majority of the pieces. It gives me enormous pleasure to know that my work will be hanging in houses in Leiden and elsewhere, and (hopefully) giving pleasure to its owners! It was a great experience meeting all the lovely artists that make up the collective running Zône, and seeing all their work in combination with mine

So what next? As we're moving house, my studio is currently in boxes, which is most frustrating. However, I'm still working on some ideas, including an extremely large butterfly and some jellyfish. I love jellyfish - they're such extraordinary creatures. I am also working on a series of very small, jewel-like pieces which I am hoping to exhibit in conjunction with jewellery by the amazing goldsmith Isabelle Riffon ( www.isabelle-riffon.eu ) in Leiden. More on this later
The Temple Guardians has FINALLY gone to press, and will be out in early November in Dutch and English. There will be a launch in Leiden in early November and one at the museum in late November. so watch this space!
---
I can't believe we are half way through 2014 already. It's proving to be an exciting year.

I've been asked to be the guest artist at Galerie Zone in Leiden (www.galeriezone.nl) for the month of September - which is a particular honour since it's the month of Kunstroute. The opening will be on Sunday 7 September from 15.00 - 17.00 - please join us for drinks and nibbles! Kunstroute is the weekend of 28/29, so there will be another opportunity for fun and frolics then.

I'm trying to build up a large collection of works for the exhibition - only I've sold several of them recently so will have to start again! Fish are still very much on the menu (thank goodness for the wonderful fishmonger Klaas Hartevelt in the market!), but I'm also starting to work with metal, Perspex, pearls and more wire.

I have also got into the world of insects.

I'm currently experimenting with gold backgrounds, and getting into learning some techniques involving gold leaf, as I have long been inspired by Rimpa screens, and would like to develop a modern interpretation of this style. For this, I am also going to have to learn how to make screens, which is also an enjoyable challenge! I love the format of screens, and the way that they allow art to become a functional part of a room.

On the book front, our second children's book, The Temple Guardians of the Rijksmuseum , is going to print in July with Rubinstein, and will be out in September. See website for more information. And here it is on bol.com. It's being published simultaneously in Dutch and English.

It's been such fun, but a lot of hard work, so we're looking forward to holding it in our hands. It will be launched during Kinderboekenweek in the beginning of October (probably on the 8 th ) at the Rijksmuseum, with children's activities and all sorts of fun. Watch this space or contact me to make sure you are on the guest list!
---
It's been a busy summer! The Dende exhibition was a huge success, much to my delight - I sold more than half the exhibits at the opening, and then continued to sell well throughout the 3 months that the exhibition was up. I was kept busy making new things to replace ones that had been sold.
My next project will be w orking with Marco Kruit of De Patissier in Oegstgeest (www.depatissier.nl), together with Ankie Stoutjesdijk (www.ankiestoutjesdijk.nl) It's the most fantastic patisserie - and so I have been much enjoying painting his creations. and then eating them. Oh that chocolate cake. utterly heavenly. I'm going to be experimenting with lots of new media for this so watch this space.
| | |
| --- | --- |
| | |
| | Some of the delicious things made by De Patissier. |
At the moment I'm mostly into leaves, silver leather, gold leaf and brightly coloured beetles at the moment.
| | |
| --- | --- |
| | |
| | Vine (silver leather) €80 |
I've also been making quite a few things on commission for specific clients, and it's been fun playing with designs to make them right for the right client. The silver wire collages and the big felt collages have been particularly popular. They don't look right in photographs though: you have to feel them!
| | | |
| --- | --- | --- |
| | | |
| | Seahorse €60 | Octopus €75 |
| | |
| --- | --- |
| | |
| | Pike €80 |
---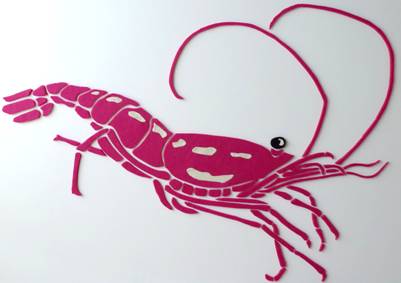 HARRIET IMPEY
I'm very much looking forward to this exhibition, which will open with a party on Sunday 28 April from 4pm. The exhibition is called Edible, and is a collection of recent works - watercolours, prints and collages (e.g the prawn above and lobster below). I love the process of painting, say a mackerel from life, and then using that painting to create a pared down design in which simple lines convey the essence of the mackerel, and then cutting blocks to make it into a print. And, of course, pretty much everything in the exhibition was consequently eaten - thus completing the art food cycle!
See PRINTS and WATERCOLOURS for a good selection of the works that will be on display. I have also had so much fun with the recent collages - the idea somehow appeared from nowhere, and after a lot of time spent sourcing thick industrial felt, they finally took shape. I'm now experimenting with different textures such as silver leather and wire, so we'll see where that takes us.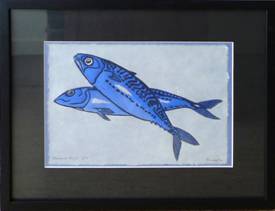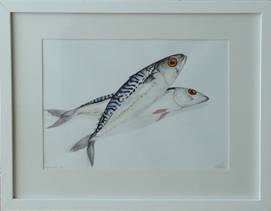 On the book front, the text is now done and Katie and I are finishing the illustrations (many of which had to change with the changes made during editing of the text. Alas it will not be out for the opening of the Rijksmuseum, but it will certainly be out for the inauguration of the Guardians (a ceremony that will be taking place in the autumn) if not before.
---
I've recently been busy with a new collection of works, on the theme of 'Edible'. And oh yes, there are crustaceans involved. I've been honing my printing techniques with the help of Sylvia ten Kley in Haagweg and her lovely printing press, and am delighted with the results. A lot of prawns, crabs and crayfish, but also experiments with printing with several colour blocks. One of the things I most enjoy is having a series of paintings of a particular, say crab, and then a print of it, and then a delightful memory of a meal. Most satisfying. If you are going to be eaten, surely it is better to be immortalized first?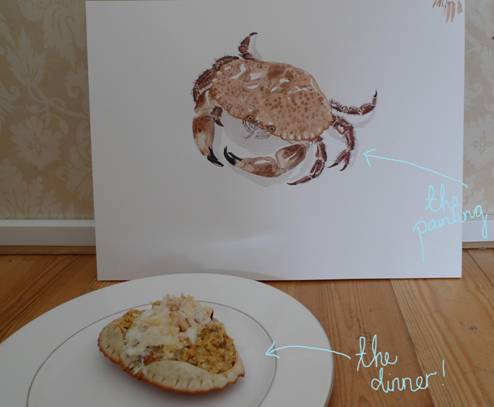 Take a look at the WATERCOLOURS and the PRINTS sections for some of my recent work.
I've also recently completed a small glass panel of doves for a pigeon-fancying client - surprisingly difficult to achieve without it becoming rather twee, but am happy with how it turned out (although the photograph is less successful - spot the freaky artist in the background). The world of decorative doves, something I had never explored before, turns out to be an interesting (and highly competitive) place. Never before have I seen so much attention paid to the shape of leg feathers. I live and learn.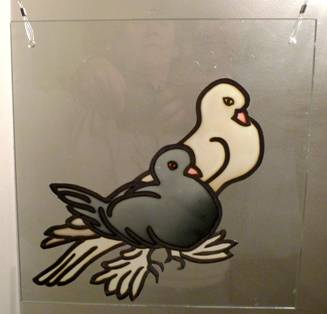 On the book front, The Temple Guardians is in the final throes of energetic editing and discussion with independent children's book editor Annelies Fontijne and the Rijksmuseum. If all goes to schedule it will be out in April for the opening of the Rijksmuseum.

---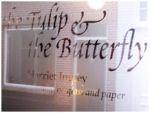 I'm much enjoying settling into my new studio. thanks to the wonderful Ankie Stoutjesdijk (www.ankiestoutjesdijk.nl) I now have an elegant window announcing my presence....
Crustaceans are still ruling the studio at the moment.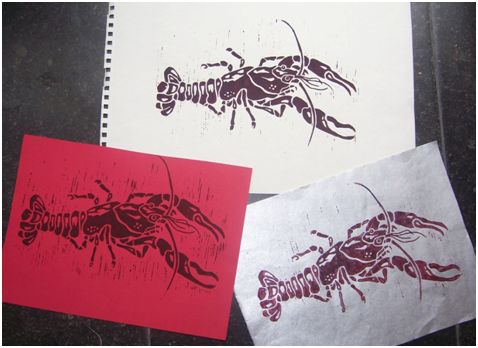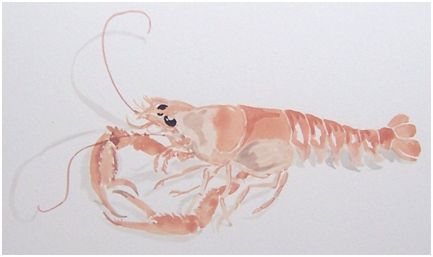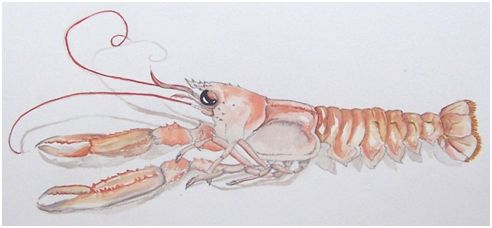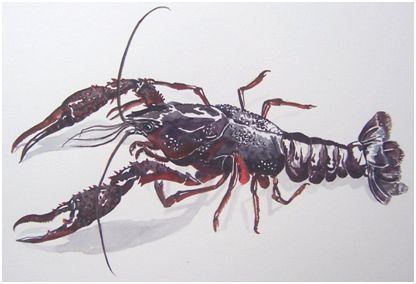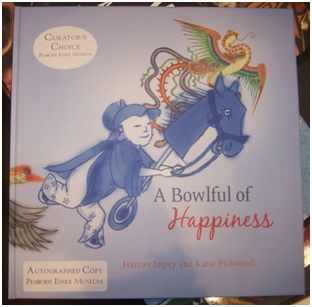 On the book front, my trip to the USA was a great success - you can read about it on http://www.abowlfulofhappiness.com/a_bowlful_of_happiness/news.html and on the museum website http://www.pem.org/calendar/event/593-a_bowlful_of_happiness.
We are now working on our next book. The Temple Guardians. watch this space!

---
My atelier has moved again. but this time for good! It is now at Groenesteeg 33, 2312 TK Leiden. It's a beautiful space near to home with a fantastic window and everything I need. I'm still in the process of setting it up but am very inspired and motivated! At present I'm working on two commission, one for a door panel with white irises and the other a painting of red orchids. although I've been getting rather obsessed with drawing crustaceans recently, including my crayfish friend who kept walking across my desk as I was painting him! He looks a bit scary in this black version of the design I'm making from him, but actually he was very sweet.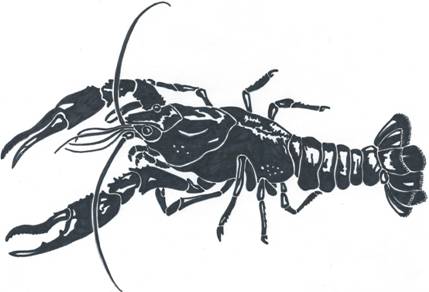 ---
Our children's book A Bowlful of Happiness is now in its second Dutch edition (see www.abowlfulofhappiness.com) and is selling well in museums and bookshops. It is also available in both Dutch and English from our website and from Meijering Art books
(www.meijeringartbooks.com ). We have also had some fabulous wrapping paper made, based on the design of the endpapers, which is also for sale in shops and online.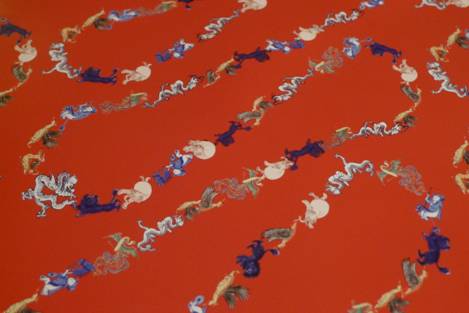 In March I have been invited to the Peabody Essex Museum to give a presentation and book signing of A Bowlful of Happiness , which they will be using as part of their educational programme. It's a brilliant opportunity to promote the book in the US, and should be great fun!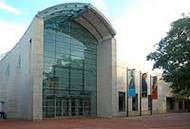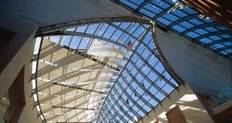 ---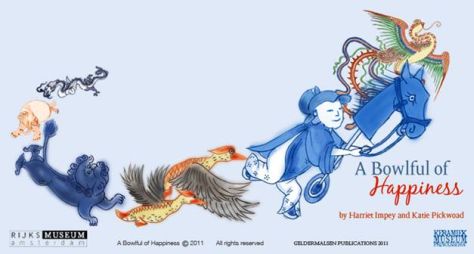 The children's book I recently published with my childhood best friend Katie Pickwoad is now on sale throughout the Netherlands - indeed the Dutch edition has almost sold out! It launched in the UK on 16 September at the Ashmolean Museum, and there will be further events at PAN Amsterdam International Art fair and during Asian Art in London in November. For more information see our website www.abowlfulofhappiness.com.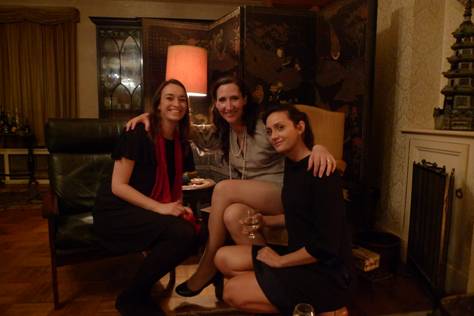 Harriet Impey and Katie Pickwoad with Welmoet Wartena, our designer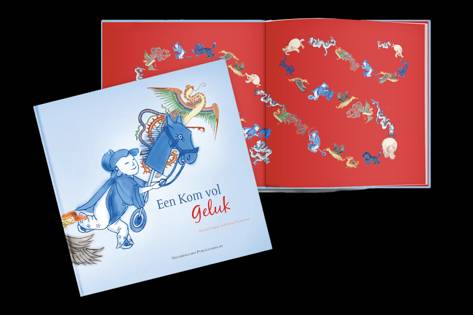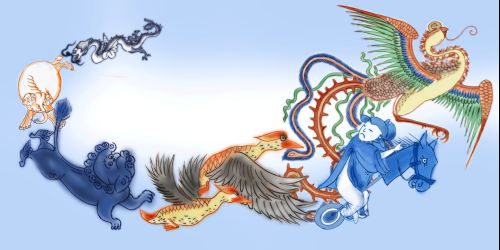 My work currently on display at the Keramiek Museum Princessehof, Leeuwarden!
The current exhibition at the Princessehof, 10.000x Happiness, on auspicious symbols in Chinese art, displays the children's book that I have written together with Katie Pickwoad and uses it for an extensive children's speurtocht through the exhibition. See http://www.princessehof.nl/tentoonstelling/53.html for more details of the exhibition.
The book A Bowlful of Happiness (Een Kom Vol Geluk) by Harriet Impey and Katie Pickwoad (see below) is in the process of publication and will cost €19.95 - for more information or to pre-order a copy, please e-mail me on harriet@thetulipandthebutterfly.com.
by Harriet Impey and Katie Pickwoad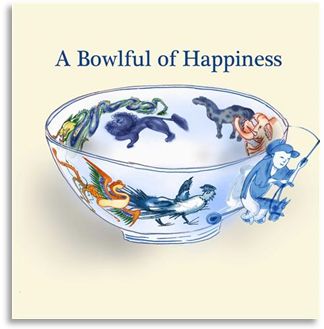 Format: Hardback 24x24cm, 26 full-colour illustrated pages
Synopsis: How can one find true happiness? This book, suitable for children 5+, tells the story of one little boy's search for happiness, more than 300 years after he was painted on a Chinese jar. Imprisoned in sadness by a slip of the painter's brush, Kang is suddenly set free by a museum curator's wish. He sets out on a journey, his only guide his wise blue-and-white hobby horse. He is joined along the way by the Auspicious Animals: the Dragon, the Lion Dog, the Elephant, the Mandarin Ducks and the Feng Huang, also released from the dishes and vases on which they have been painted, who each bring their own special attributes. Together they journey through Chinese cultural history, entering into the scenes depicted on objects throughout the museum, such as a betrothal and a meeting of warriors. The characters he meets, and what he learns along the way, help him to realize eventually that sometimes happiness is to be found where you least expect it.
Aim: This illustration of this book uses the rich and colourful decoration of Chinese porcelain to bring alive the symbolism of animals in decorative art. Capturing children's imagination with lively characters taken from real objects in the collection of the Rijksmuseum, Amsterdam, and Princessehof Ceramic Museum, Leeuwarden, the story gives an introduction to both the symbolism of Chinese art and aspects of material culture in China during the 16 th , 17 th and 18 th centuries. Children will be inspired to really look at works of applied art, objects that are notoriously difficult to make attractive to this audience. The book is being used for educational purposes in the exhibition Happiness, Ten Thousand Times at the Princessehof,. The book also serves as a cultural link to enable children to feel akin to our hero, despite his different time and culture: his hobby horse is still a popular toy every child will recognize. The playfully educative nature of the book and its rich and original illustrations make it eminently suitable both for enjoyment at home and as part of an educative programme in schools, libraries or cultural centres.
Biographies: Harriet Impey is 33 and an artist and translator specializing in Asian art. She read History of Art at Cambridge and has her own business, The Tulip and the Butterfly (www.thetulipandthebutterfly.com). She lives in the Netherlands with her husband and two small children. Katie Pickwoad is 32 and an artist and designer. She trained at Oxford Brookes and South Bank University, and works as a freelance designer in London. Harriet and Katie have worked together since the age of two, but this is their first children's book.